Cor de Pedra
Dit is Priorat in een modern jasje. De Cor de Pedra is niet lang op hout gerijpt, maar leunt op de hoge kwaliteit van de druiven en hun befaamde grond. Veel power en body, maar ook fris genoeg om 'm keer op keer te blijven drinken.
Druivenras:
Carinyena, Garnatxa
Alcohol:
15,0%
Jaar:
2018
Herkomst:
DOQ Priorat
Bodem:
Llicorella
Rijping:
12 maanden rijping op eikenhouten vaten
Sulfiet:
70 mg/L
Wijnbouw:
Conventioneel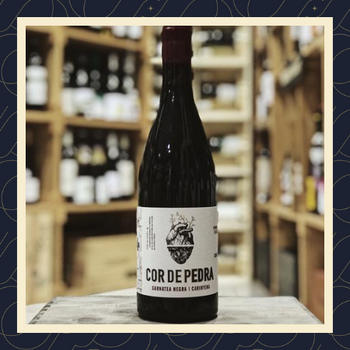 Waarom we van deze wijn houden
De leistenen ondergrond vormt de kern van deze Cor de Pedra. Wijn met een stenen hart, prachtig geïllustreerd op het label. Een unieke vertegenwoordiging van de denominatie waar hij het daglicht zag. Fills de la Llicorella geeft rode wijn uit Priorat een andere draai. In tegenstelling tot veel andere variëteiten uit de regio heeft deze geen houtrijping gehad. Daardoor blijft het fruitige karakter fier overeind. De fijne blend van Garnatxa en Carinyena maakt 'm vol en fris. Mooi in evenwicht met een goede vleug complexiteit.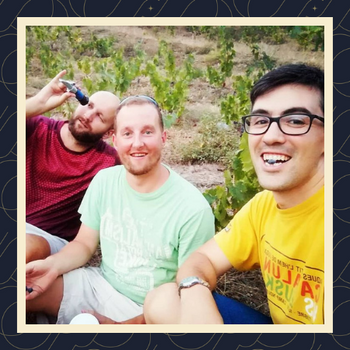 Wat dit wijnhuis zo bijzonder maakt
Kinderen van de aarde – van llicorella, om precies te zijn. Het is moeilijk om deze ruwe leistenen bodem niet in één adem te noemen met DOQ Priorat. Dit is het verhaal van Fills de la Llicorella: drie jonge wijnmakers uit deze beroemde regio. Voorheen verzorgden ze alleen wijngaarden, om ze na de oogst te verkopen aan een prestigieus wijnhuis. Een paar jaar terug besloten de heren echter een nieuwe weg in te slaan. Van een deel van de oogst gingen ze zelf wijn maken. Dit resulteerde in twee moderne, overheerlijke cuvées: de rode Cor de Pedra en de witte Cassanella.
Job's Proefnotities
Moderne diep robijnrood gekleurde wijn met een verrassende tanninestructuur. Vol en krachtig in de mond. Desondanks een fijne zuurgraad. Een wijn die veel potentie heeft om te evolueren. Donker fruit voert de boventoon. Frisse cassis, kersen- en aardbeienjam worden bijgevallen door complexe en intense uitschieters van toffee, karamel, rook en leer.
The questions we get the most
Absolutely, as soon as your order leaves the door you will receive an email from DPD with a tracking code. This allows you to track your order.
We usually prepare the orders on the weekend. They will be posted on Monday and they will arrive in 1 to 2 working days. Our delivery times therefore vary between 2 and 5 working days.
Yes, you can! If something is not to your liking in one way or another, you can contact us and we will organize that the bottles are returned.
First of all, that's a shame and bad luck, but don't worry. Do not drink the wine. Put the cork back in and let us know. We will then send you a new bottle.
Send us a message via WhatsApp or e-mail, or call one of us via our contact details and we'll take care of it all for you.
Yes, every wine from our selection can be ordered per bottle. This way you can put together your own box and try different wines.
We have a separate catalog for business customers and interested parties. Both for catering and retail. In addition, we are also happy to discuss with you how our wines can be a deepening or addition to your business.
Of course. Would you like to surprise someone? You can enter an alternative delivery address when ordering and leave a message for this person in the comments. If you'd rather discuss with us how you envision it, that's fine too. You can always reach us via WhatsApp, call or email.
We have beautiful boxes in which we can send a bottle. As a result, the lucky person receives a beautiful and unique gift.
You can. When ordering, the option to add a comment appears. Here you can leave your personal message for the person you want to surprise.