En Moviment 3
Deze sappige rode 100% Garnatxa brengt je in beweging. Hij laat je heen en weer hollen tussen allerlei dynamische aroma's: fruit, kruiden, bloemen, aardse tonen, noem maar op! En Moviment 3 is een uitdagende wijn die niet gauw zal vervelen.
Druivenras:
100% Garnatxa
Alcohol:
15,5%
Jaar:
2019
Herkomst:
DO Terra Alta
Bodem:
Panal, een mengsel van fijn zand en wit slib.
Rijping:
5 maanden rijping in kleien amfora potten
Sulfiet:
0 mg/L
Wijnbouw:
Natuurlijk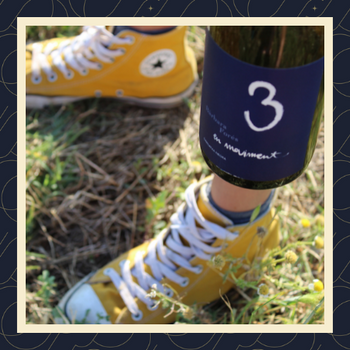 Waarom we van deze wijn houden
De collectie En Moviment bestaat uit wilde wijnen, geboren uit vrijheid. 'In beweging', omdat het leven constant beweegt, constant evolueert. Zo min mogelijk ingrijpen. De oude wijngaarden en de bijzondere bodem hun magie laten doen. Dát is de filosofie van Pili Sanmartín Ferrer. En Moviment is haar meest persoonlijke project. Opgezet in 2014, toen ze haar ouders kwam vergezellen bij Celler Bàrbara Forés. Het derde pronkstuk uit deze lijn wijnen is een uitgesproken rood. Een exceptionele expressie van de complexe ondergrond in Terra Alta. En van de diepte die de wortels moeten bereiken voor water en voeding.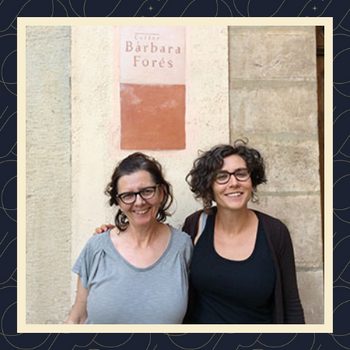 Wat dit wijnhuis zo bijzonder maakt
Celler Bàrbara Forés draagt de naam van de betovergrootmoeder van wijnmaker Carmen Ferrer. Het vak zit al ruim honderd jaar haar de familie; telkens doorgegeven van moeder op dochter. Samen met echtgenoot Manolo runt Carmen het wijnhuis in Terra Alta, dat symbool staat voor diep respect voor deze lang bewaarde traditie. Maar, deze pioniers zijn zelf allesbehalve traditioneel! Laat staan hun wijnen. In 2013 kwam dochter Pili het team versterken. Samen maken ze de meest avontuurlijke variëteiten, met zo min mogelijk interventie. Al jaren het vertrouwde fundament: de Garnatxa Blanca.
Job's Proefnotities
Voor een wijn uit 2020 zeer expressief. Fruitigheid is in overvloed aanwezig en het profiel blijft in beweging. Dit dankzij de dynamiek aan aroma's, uiteenlopend van mediterrane kruiden en gedroogde rozen tot herfstbladeren en aardse tonen. Heel verfrissend voor een Garnatxa. Pilar benadrukt zelf de 'elektriciteit' van de wijn: een sublieme sprankeling en een goede zuurgraad.
The questions we get the most
Absolutely, as soon as your order leaves the door you will receive an email from DPD with a tracking code. This allows you to track your order.
We usually prepare the orders on the weekend. They will be posted on Monday and they will arrive in 1 to 2 working days. Our delivery times therefore vary between 2 and 5 working days.
Yes, you can! If something is not to your liking in one way or another, you can contact us and we will organize that the bottles are returned.
First of all, that's a shame and bad luck, but don't worry. Do not drink the wine. Put the cork back in and let us know. We will then send you a new bottle.
Send us a message via WhatsApp or e-mail, or call one of us via our contact details and we'll take care of it all for you.
Yes, every wine from our selection can be ordered per bottle. This way you can put together your own box and try different wines.
We have a separate catalog for business customers and interested parties. Both for catering and retail. In addition, we are also happy to discuss with you how our wines can be a deepening or addition to your business.
Of course. Would you like to surprise someone? You can enter an alternative delivery address when ordering and leave a message for this person in the comments. If you'd rather discuss with us how you envision it, that's fine too. You can always reach us via WhatsApp, call or email.
We have beautiful boxes in which we can send a bottle. As a result, the lucky person receives a beautiful and unique gift.
You can. When ordering, the option to add a comment appears. Here you can leave your personal message for the person you want to surprise.