Giol Porrera | Mas d'en Caçador
Druiven van 120 jaar oude druivenstokken van het unieke "Mas d'en Caçador" perceel. Vol, zijdezacht, een echte smaaksensatie.
Druivenras:
Garnatxa, Carinyena, Picapoll Negre
Alcohol:
15,0%
Jaar:
2019
Herkomst:
DOQ Priorat
Bodem:
Llicorella
Rijping:
12 maanden rijping op nieuw Frans eikenhout
Sulfiet:
47 mg/L
Wijnbouw:
Biologisch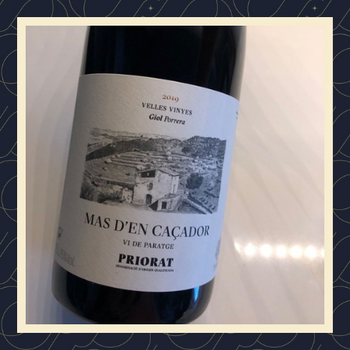 Waarom we van deze wijn houden
Perceelwijn van een oude wijngaard met een zeer beperkte productie, gemaakt van druiven van de inheemse en belangrijkste variëteiten van het gebied; Garnatxa en Carinyena. De druiven komen van 120 jaar oude druivenstokken die op een steile helling. Een van de eerste wijngaarden van de familie, geplant aan het begin van de 20e eeuw. "Mas d'en Caçador" is de naam van deze helling met perfecte omstandigheden om topwijn te maken. De wijn rijpt 12 maanden in nieuwe Franse eikenhouten vaten van 300 liter. Gebotteld april 2021, productie van 600 flessen.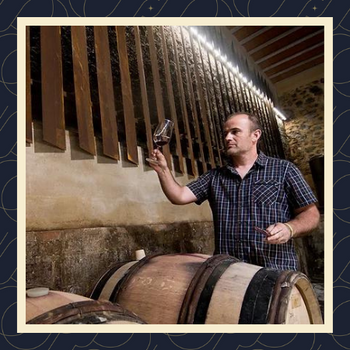 Wat dit wijnhuis zo bijzonder maakt
Jonas Macip Simó is een echte romanticus. Voorheen bewerkte hij zijn wijngaarden net buiten het pittoreske dorpje Porrera om de geoogste druiven vervolgens te verkopen aan de lokale coörporatie. In 2018 besluit hij het over een andere boeg te gooien en hij gebruikt een deel van zijn oogst om er zelf wijn mee te maken. Echter, geen half werk. Eerst goed uitzoeken hoe je goede wijn maakt en dan topwijn leveren. Dat lukte hem al heel snel.
Job's Proefnotities
Diepe kersenkleur. Intense en aanhoudende aroma's van rijp rood fruit die zich vermengen met de minerale tonen van de licorella. Rust in het vat geeft het kruidige aroma's en geroosterde tonen. In de mond komt het sterk binnen, met veel zijdezachtheid, soepele tannines.
The questions we get the most
Absolutely, as soon as your order leaves the door you will receive an email from DPD with a tracking code. This allows you to track your order.
We usually prepare the orders on the weekend. They will be posted on Monday and they will arrive in 1 to 2 working days. Our delivery times therefore vary between 2 and 5 working days.
Yes, you can! If something is not to your liking in one way or another, you can contact us and we will organize that the bottles are returned.
First of all, that's a shame and bad luck, but don't worry. Do not drink the wine. Put the cork back in and let us know. We will then send you a new bottle.
Send us a message via WhatsApp or e-mail, or call one of us via our contact details and we'll take care of it all for you.
Yes, every wine from our selection can be ordered per bottle. This way you can put together your own box and try different wines.
We have a separate catalog for business customers and interested parties. Both for catering and retail. In addition, we are also happy to discuss with you how our wines can be a deepening or addition to your business.
Of course. Would you like to surprise someone? You can enter an alternative delivery address when ordering and leave a message for this person in the comments. If you'd rather discuss with us how you envision it, that's fine too. You can always reach us via WhatsApp, call or email.
We have beautiful boxes in which we can send a bottle. As a result, the lucky person receives a beautiful and unique gift.
You can. When ordering, the option to add a comment appears. Here you can leave your personal message for the person you want to surprise.