Naturalment Pansificat
Aanstormend talent Andrea Miró verrijkt ons met deze Naturalment Pansificat. Een pure en complexe dessertwijn die heerlijk wegdrinkt. Perfect om een mediterrane maaltijd mee af te ronden, als de zon aan het eind van een lange zomerse dag eindelijk ondergaat.
Druivenras:
100% Garnatxa Blanca
Alcohol:
16%
Jaar:
2022
Herkomst:
DO Terra Alta
Bodem:
Kalk en klei
Rijping:
Geen rijping
Sulfiet:
0 mg/L
Wijnbouw:
Natuurlijk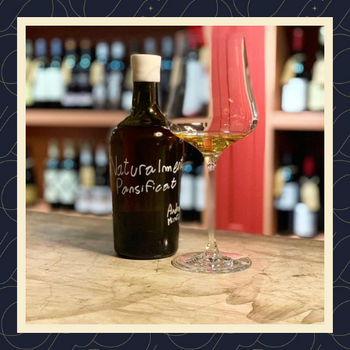 Waarom we van deze wijn houden
Een intrigerende en heerlijk zoete dessertwijn die geweldig samengaat met een licht, fruitig dessert. Gemaakt van 100% gedroogde Garnatxa Blanca. Dit druivenras wordt elders ook wel Grenache Blanc genoemd, maar komt oorspronkelijk uit het noorden van Spanje. De wijn heeft een diepe gouden amberkleur en een uitstekende balans, lengte en complexiteit. Zonder enige interventie gefermenteerd door spontane gisting.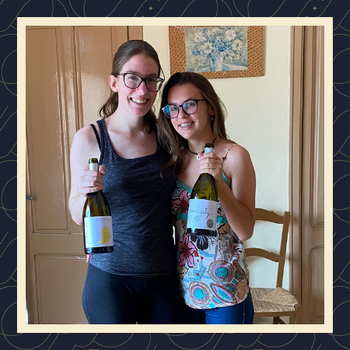 Wat dit wijnhuis zo bijzonder maakt
Andrea (20) is de oudste dochter van wijnmaker Jordi Miró uit Terra Alta. Nadat ze al op jonge leeftijd voor een schoolproject ging wijnmaken, besloot ze haar eigen lijn wijnen van de witte druif Garnatxa Blanca op te zetten. Haar jongere zusje Aïda (17) trad vrij snel in haar voetsporen en besloot zich volledig te storten op de Garnatxa Negra. Samen hebben ze nu 6 wijnen die met minimale interventie en veel liefde worden gemaakt.
Job's Proefnotities
Goed ontwikkelende neus met duidelijke verouderingseffecten. Een serenade van rijpe boomvruchten zoals pruimen, rode appel en kweepeer. Met als intermezzo vanille, cederhout, gist en maggi. De Naturalment Pansificat is rijk en zoet, met een zuurgraad die de wijn goed in balans houdt. Veel rijpe fruitsmaken in de mond en een afdronk waar geen eind aan lijkt te komen. Sublim!
The questions we get the most
Absolutely, as soon as your order leaves the door you will receive an email from DPD with a tracking code. This allows you to track your order.
We usually prepare the orders on the weekend. They will be posted on Monday and they will arrive in 1 to 2 working days. Our delivery times therefore vary between 2 and 5 working days.
Yes, you can! If something is not to your liking in one way or another, you can contact us and we will organize that the bottles are returned.
First of all, that's a shame and bad luck, but don't worry. Do not drink the wine. Put the cork back in and let us know. We will then send you a new bottle.
Send us a message via WhatsApp or e-mail, or call one of us via our contact details and we'll take care of it all for you.
Yes, every wine from our selection can be ordered per bottle. This way you can put together your own box and try different wines.
We have a separate catalog for business customers and interested parties. Both for catering and retail. In addition, we are also happy to discuss with you how our wines can be a deepening or addition to your business.
Of course. Would you like to surprise someone? You can enter an alternative delivery address when ordering and leave a message for this person in the comments. If you'd rather discuss with us how you envision it, that's fine too. You can always reach us via WhatsApp, call or email.
We have beautiful boxes in which we can send a bottle. As a result, the lucky person receives a beautiful and unique gift.
You can. When ordering, the option to add a comment appears. Here you can leave your personal message for the person you want to surprise.