Pironia
All day rosé. De Pironia geeft dat wel een hele nieuwe dimensie. Deze wijn bewijst dat rosé ook heel veelzijdig kan zijn. Een lokaal druivenras, lichte stijl, ontzettend smaakvol en perfect voor liefhebbers van natuurwijn.
Druivenras:
100% Trepat
Alcohol:
11,0%
Jaar:
2021
Herkomst:
DO Tarragona
Bodem:
Kalk en klei
Sulfiet:
0 mg/L
Wijnbouw:
Natuur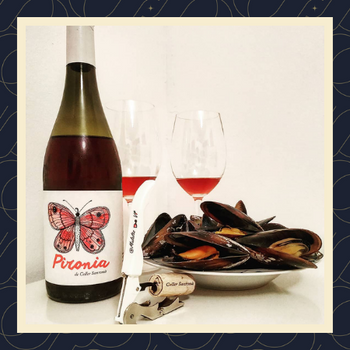 Waarom we van deze wijn houden
Op de fles zie je een de Pironia-vlinder die door de wijngaarden van Edu fladdert. Dezelfde knalrode kleur als zijn rosé Pironia. Het geheim is het druivenras: Trepat. Dit lokale druivenras geeft deze prachtige kleur. De kleur is een tikje donker voor wat wij kennen als rosé, in Catalonië wordt deze soort wijn Vi Vermell (roodkleurige wijn) genoemd. Desalniettemin is het een heerlijke dorstlesser bij een lekker zonnetje in het park.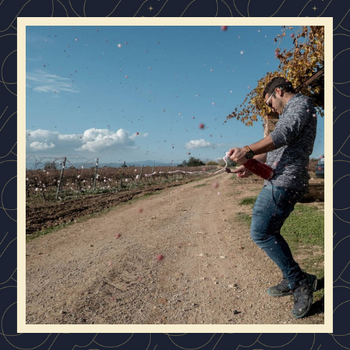 Wat dit wijnhuis zo bijzonder maakt
Edu Sanromà is de 4e generatie wijnmaker in zijn familie, maar Edu is niet zoals zijn voorgangers. Hij houdt ervan om zijn eigen weg te gaan, zo is hij en zo heeft hij dat altijd al gedaan. Soms levert dat opgetrokken wenkbrauwen op maar hij gelooft heilig in wat hij doet en dat begint steeds meer zijn vruchten af te werken. Edu maakt natuurwijn, hij oogst vaak iets vroeger, hij laat de schilletjes mee vergisten. Niet bepaald de traditionele manier van wijnmaken, maar stuk voor stuk zijn het typische Edu Sanromà wijnen, en lekker dat ze zijn!
Job's Proefnotities
Heldere framboosrode kleur. Heerlijke geur van verse aardbeitjes, rozenblaadjes en munt. Frisse en sappige wijn. Smaak van rood fruit en ietwat kruidig. Lichte body en hij lijkt zelfs ergens een beetje op hele lichte rode wijn.
The questions we get the most
Absolutely, as soon as your order leaves the door you will receive an email from DPD with a tracking code. This allows you to track your order.
We usually prepare the orders on the weekend. They will be posted on Monday and they will arrive in 1 to 2 working days. Our delivery times therefore vary between 2 and 5 working days.
Yes, you can! If something is not to your liking in one way or another, you can contact us and we will organize that the bottles are returned.
First of all, that's a shame and bad luck, but don't worry. Do not drink the wine. Put the cork back in and let us know. We will then send you a new bottle.
Send us a message via WhatsApp or e-mail, or call one of us via our contact details and we'll take care of it all for you.
Yes, every wine from our selection can be ordered per bottle. This way you can put together your own box and try different wines.
We have a separate catalog for business customers and interested parties. Both for catering and retail. In addition, we are also happy to discuss with you how our wines can be a deepening or addition to your business.
Of course. Would you like to surprise someone? You can enter an alternative delivery address when ordering and leave a message for this person in the comments. If you'd rather discuss with us how you envision it, that's fine too. You can always reach us via WhatsApp, call or email.
We have beautiful boxes in which we can send a bottle. As a result, the lucky person receives a beautiful and unique gift.
You can. When ordering, the option to add a comment appears. Here you can leave your personal message for the person you want to surprise.