Selecció Negre
Smaakvol, fruitig, kruidig, soepel. Dat is de Selecció Negre van wijnhuis Vega de Ribes. Gemaakt van het typisch Spaanse druivenras Garnatxa met een beetje Merlot om de wijn heerlijk soepel te maken.
Druivenras:
Garnatxa, Merlot
Alcohol:
13,5%
Jaar:
2017
Herkomst:
DO Penedes
Bodem:
Kalk met fossielen
Sulfiet:
25 mg/L
Wijnbouw:
Biologisch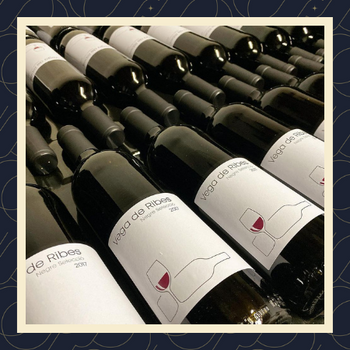 Waarom we van deze wijn houden
Vanaf de wijngaarden van Vega de Ribes heb je prachtig uitzicht over het landschap en de zee. Hier groeien de Garnatxa druiven die gebruikt zijn voor deze wijn. Hier wordt biologisch te werk gegaan. De druiven vergisten op rvs en er wordt zo min mogelijk sulfiet toegevoegd. Zo krijg je een pure, expressieve wijn. De Merlot zorgt ervoor dat ie nog extra drinkbaar wordt. Een glas echte Catalaanse wijn heb je hier.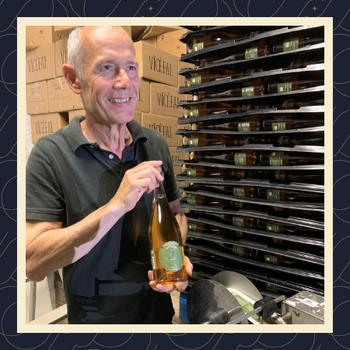 Wat dit wijnhuis zo bijzonder maakt
Familiewijnhuis Vega de Ribes heeft een rijke historie. De familie Bartra Roig woont al sinds 1540 in landgoed La Serra, aangelegd rondom een twaalfde-eeuwse defensietoren, tussen het Parc del Garraf en de middellandse zee. Naast druiven verbouwt Vega de Ribes ook olijven, johannesbrood, amandelen en lokale boomsoorten. Alles volgens een organische manier van werken. Hun wijnen kenmerken zich door de unieke natuur en lokale variëteiten, zoals Xarel.lo en Malvasia de Sitges. Onder de bescheiden 14 hectare aan wijngaarden valt een 80 jaar oude rank van Xarel.lo. Eén van de oudsten van dit gebied.
Job's Proefnotities
Diepe granaatappelrode kleur. Rood fruit knalt je glas uit, maar ook de kruidige aroma's komen erg naar voren. Tijm, munt en venkel. Medium body wijn die zacht aanvoelt op de tong. Smaak van bosvruchten en de kruiden proef je weer terug. Echt Catalaans.
The questions we get the most
Absolutely, as soon as your order leaves the door you will receive an email from DPD with a tracking code. This allows you to track your order.
We usually prepare the orders on the weekend. They will be posted on Monday and they will arrive in 1 to 2 working days. Our delivery times therefore vary between 2 and 5 working days.
Yes, you can! If something is not to your liking in one way or another, you can contact us and we will organize that the bottles are returned.
First of all, that's a shame and bad luck, but don't worry. Do not drink the wine. Put the cork back in and let us know. We will then send you a new bottle.
Send us a message via WhatsApp or e-mail, or call one of us via our contact details and we'll take care of it all for you.
Yes, every wine from our selection can be ordered per bottle. This way you can put together your own box and try different wines.
We have a separate catalog for business customers and interested parties. Both for catering and retail. In addition, we are also happy to discuss with you how our wines can be a deepening or addition to your business.
Of course. Would you like to surprise someone? You can enter an alternative delivery address when ordering and leave a message for this person in the comments. If you'd rather discuss with us how you envision it, that's fine too. You can always reach us via WhatsApp, call or email.
We have beautiful boxes in which we can send a bottle. As a result, the lucky person receives a beautiful and unique gift.
You can. When ordering, the option to add a comment appears. Here you can leave your personal message for the person you want to surprise.