Syntonie Champagne
Syntonie is de harmonieuze blend van druiven uit de 3 belangrijkste champagneregio's waar elk druivenras groeit op z'n favoriete bodem.
Druivenras:
Chardonnay, Pinot Noir, Pinot Meunier
Alcohol:
12%
Jaar:
NV
Herkomst:
Champagne
Bodem:
Klei, leisteen en kalk
Rijping:
Minimaal 30 maanden rijping op de fles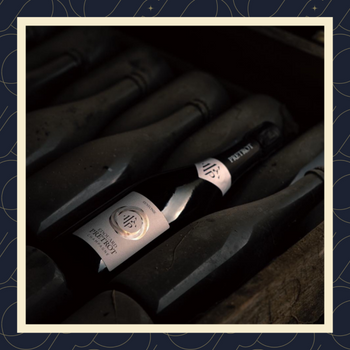 Over de wijn
Syntonie, de verfijnde Champagne van het gerenommeerde wijnhuis Edouard Prétrot, is een sublieme blend van verschillende druivensoorten die samen een harmonieuze symfonie van smaken en aroma's creëren. Deze sprankelende wijn belichaamt de ware essentie van de Champagne-regio in Frankrijk. In de neus brengt Syntonie een verleidelijke melange van groene appel, citrusvruchten en een subtiele hint van brioche naar voren, waardoor een aantrekkelijk boeket ontstaat. Het smaakpalet is eveneens rijk en verfijnd, met tonen van rijpe peren, abrikozen en delicaat gebakken brood. De bruisende mousse zorgt voor een feestelijke textuur en een verfrissende levendigheid. Syntonie is het resultaat van zorgvuldig vakmanschap en een nauwkeurige blend van Pinot Noir, Chardonnay en Pinot Meunier druiven. Deze cuvée vertegenwoordigt perfectie in elke slok en is de ideale metgezel voor speciale gelegenheden of momenten van pure luxe.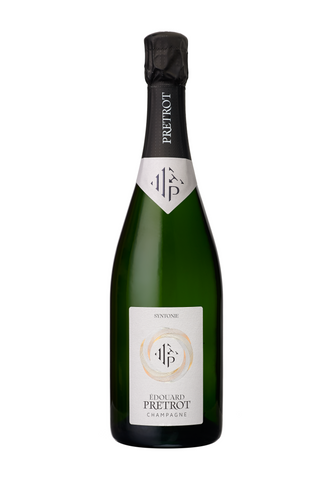 Over het wijnhuis
Edouard Prétrot, een betoverend wijnhuis in de Champagne-regio van Frankrijk, heeft onder leiding van de getalenteerde wijnmakers Sarah en Frédéric een opvallende entree gemaakt in de wereld van mousserende wijnen. Dit relatief nieuwe wijnhuis heeft snel erkenning verworven voor zijn verfrissende benadering van traditionele Champagne-productie. Sarah en Frédéric belichamen de jeugdige passie en innovatie die de toekomst van de wijnbouw in de Champagne-regio vormgeven. Met diepgewortelde kennis van de regio en een toewijding aan duurzaamheid, creëren ze Champagnes die getuigen van de unieke terroirs en druivenrassen van de streek. Hun liefde voor het vak komt tot uiting in elk glas, met levendige bubbels en complexe smaken die kenmerkend zijn voor hun creaties. Edouard Prétrot, onder de bekwame leiding van Sarah en Frédéric, is een opwindende nieuwkomer die de tradities van Champagne eert en tegelijkertijd een nieuwe dimensie toevoegt aan deze eeuwenoude wijnwereld.
Proefnotities van Job
Syntonie Champagne, een creatie van Edouard Prétrot: Delicate aroma's van groene appel en brioche, met een harmonieuze mix van peren en abrikozen. Een elegante en feestelijke beleving.
The questions we get the most
Absolutely, as soon as your order leaves the door you will receive an email from DPD with a tracking code. This allows you to track your order.
We usually prepare the orders on the weekend. They will be posted on Monday and they will arrive in 1 to 2 working days. Our delivery times therefore vary between 2 and 5 working days.
Yes, you can! If something is not to your liking in one way or another, you can contact us and we will organize that the bottles are returned.
First of all, that's a shame and bad luck, but don't worry. Do not drink the wine. Put the cork back in and let us know. We will then send you a new bottle.
Send us a message via WhatsApp or e-mail, or call one of us via our contact details and we'll take care of it all for you.
Yes, every wine from our selection can be ordered per bottle. This way you can put together your own box and try different wines.
We have a separate catalog for business customers and interested parties. Both for catering and retail. In addition, we are also happy to discuss with you how our wines can be a deepening or addition to your business.
Of course. Would you like to surprise someone? You can enter an alternative delivery address when ordering and leave a message for this person in the comments. If you'd rather discuss with us how you envision it, that's fine too. You can always reach us via WhatsApp, call or email.
We have beautiful boxes in which we can send a bottle. As a result, the lucky person receives a beautiful and unique gift.
You can. When ordering, the option to add a comment appears. Here you can leave your personal message for the person you want to surprise.