Tradition
Dit is typisch Jura. Blend van de twee witte druivenrassen die je hier vindt: Chardonnay en Savagnin. 2 jaar rijping onder een gistlaag die voor de herkenbare, uitgesproken smaak zorgt. Vind jij jezelf een wijnavonturier? Kijken of je dit aandurft.
Druivenras:
Chardonnay, Savagnin
Alcohol:
14%
Jaar:
2020
Herkomst:
AOC Jura
Bodem:
Mergel, kalk en klei
Rijping:
2 jaar rijping onder een gistlaag
Sulfiet:
30mg/L
Wijnbouw:
Biologisch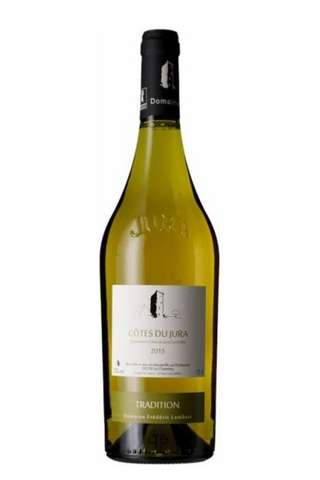 Over de wijn
Van alle wijnen die we geproefd hebben bij dit wijnhuis is dit misschien wel de meest typische Jura wijn van allemaal. We hebben hier een blend van Chardonnay en Savagnin. Elegantie en avontuur. De wijn rijpt voor zo'n 2 jaar 'sous voile', onder een gistlaag. Dit is wat de witte wijnen uit Jura kenmerkt. Weliswaar wijn voor de geoefende fijnproevers, maar met een stukje comté kaas ernaast is dit echt ultiem genieten.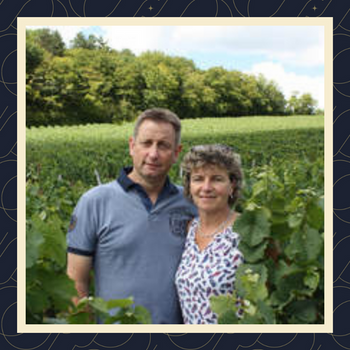 Over het wijnhuis
Ons wijndomein, opgericht in 1993, gelegen in het appellatiegebied Côtes du Jura, omvat de 5 Jura-druivensoorten: dat wil zeggen twee witte druivenrassen: Chardonnay en Savagnin en drie rode druivenrassen: Trousseau, Poulsard en Pinot Deze druivenrassen zijn aangeplant op klei-kalksteen bodem en zijn verdeeld over 7 percelen. Vijf daarvan bevinden zich aan de rand van Toulouse le Château, een stadje dat al lang bekend staat om de kwaliteit van zijn karakteristieke wijnen. De ruïne van het kasteel ligt aan de oorsprong van het logo van het Domaine Frédéric Lambert dat op alle etiketten aanwezig is.
Proefnotities
Diepe gele kleur met intense aroma's van gedroogde citrus, stro, bloemen, sinaasappelschil en noten. Fikse intensiteit met een strakke zuurgraad. Hier gebeurt een hoop in je mond, maar ja, het is dan ook Jura.
The questions we get the most
Absolutely, as soon as your order leaves the door you will receive an email from DPD with a tracking code. This allows you to track your order.
We usually prepare the orders on the weekend. They will be posted on Monday and they will arrive in 1 to 2 working days. Our delivery times therefore vary between 2 and 5 working days.
Yes, you can! If something is not to your liking in one way or another, you can contact us and we will organize that the bottles are returned.
First of all, that's a shame and bad luck, but don't worry. Do not drink the wine. Put the cork back in and let us know. We will then send you a new bottle.
Send us a message via WhatsApp or e-mail, or call one of us via our contact details and we'll take care of it all for you.
Yes, every wine from our selection can be ordered per bottle. This way you can put together your own box and try different wines.
We have a separate catalog for business customers and interested parties. Both for catering and retail. In addition, we are also happy to discuss with you how our wines can be a deepening or addition to your business.
Of course. Would you like to surprise someone? You can enter an alternative delivery address when ordering and leave a message for this person in the comments. If you'd rather discuss with us how you envision it, that's fine too. You can always reach us via WhatsApp, call or email.
We have beautiful boxes in which we can send a bottle. As a result, the lucky person receives a beautiful and unique gift.
You can. When ordering, the option to add a comment appears. Here you can leave your personal message for the person you want to surprise.