Vinil SO Natural
De sappige Catalaanse druif Sumoll speelt hier de hoofdrol. Lichte body met een smaakexplosie. Ideaal voor het warme weer.
Druivenras:
Sumoll, Merlot
Alcohol:
13%
Jaar:
2019
Herkomst:
DO Penedes
Bodem:
Kalk en klei
Rijping:
1 jaar rijping op oud hout
Sulfiet:
0mg/L
Wijnbouw:
Natuurlijk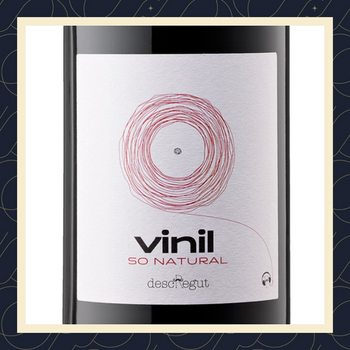 Over de wijn
Lichte rode wijn gemaakt van een bijzondere druif: de Sumoll. Deze druif staat al sinds jaar en dag aangeplant in Catalonië maar hij is lange tijd erg onpopulair geweest, omdat men dacht dat ze alleen volle, zware rode wijn wilde drinken. De laatste jaren wordt de Sumoll steeds vaker weer aangeplant en is er vernieuwde waardering voor de lichtere stijlen rode wijn. Het is een druif met hoge zuurgraad en hoge tannines. Daardoor heeft ie baat bij wat langere rijping om dat beter in balans te brengen. In dit geval wordt ie ook nog geblend met een beetje Merlot.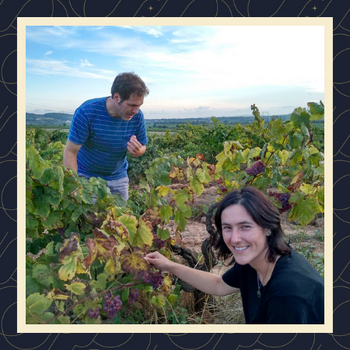 Over het wijnhuis
Can Descregut is een kleine Catalaanse familiewijnmakerij die biologische wijnen en corpinnats produceert van lokale druivenrassen in het wereldberoemde DO Penedés. Penedes is een regio met meer dan 2000 jaar aan wijngeschiedenis en pionier in de ontwikkeling van mousserende en witte wijnen van hoge kwaliteit. Voor Arantxa en Marc draait alles om topwijn maken met respect voor het milieu, dat is hun doel!
Proefnotities van Job
Diepe robijnrode kleur en een explosie van aroma's. Kersen, gestoofde bramen, aalbesjes, tijm, aarde en gedroogde bladeren. In de mond proef je een frisse hoge zuurgraad, lichte body en volle, zachte tannines.
The questions we get the most
Absolutely, as soon as your order leaves the door you will receive an email from DPD with a tracking code. This allows you to track your order.
We usually prepare the orders on the weekend. They will be posted on Monday and they will arrive in 1 to 2 working days. Our delivery times therefore vary between 2 and 5 working days.
Yes, you can! If something is not to your liking in one way or another, you can contact us and we will organize that the bottles are returned.
First of all, that's a shame and bad luck, but don't worry. Do not drink the wine. Put the cork back in and let us know. We will then send you a new bottle.
Send us a message via WhatsApp or e-mail, or call one of us via our contact details and we'll take care of it all for you.
Yes, every wine from our selection can be ordered per bottle. This way you can put together your own box and try different wines.
We have a separate catalog for business customers and interested parties. Both for catering and retail. In addition, we are also happy to discuss with you how our wines can be a deepening or addition to your business.
Of course. Would you like to surprise someone? You can enter an alternative delivery address when ordering and leave a message for this person in the comments. If you'd rather discuss with us how you envision it, that's fine too. You can always reach us via WhatsApp, call or email.
We have beautiful boxes in which we can send a bottle. As a result, the lucky person receives a beautiful and unique gift.
You can. When ordering, the option to add a comment appears. Here you can leave your personal message for the person you want to surprise.