Selecció Blanc
Een donkere witte wijn met een verrassend fris karakter. Buitengewoon verkwikkend en tjokvol sappigheid. Zijn troef: een zeldzame druif die in de tijd van Romeinen en Grieken zijn weg vond naar de Catalaanse kust.
Druivenras:
Malvasia de Sitges, Xarel.lo, Garnatxa Blanca, Sauvignon Blanc
Alcohol:
13,0%
Jaar:
2017
Herkomst:
DO Penedes (Massis del Garraf)
Bodem:
Kalk met fossielen
Rijping:
Geen rijping
Sulfiet:
18 mg/L
Wijnbouw:
Biologisch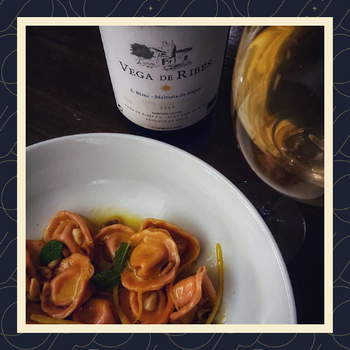 Waarom we van deze wijn houden
De Malvasia de Sitges kom je niet vaak meer tegen. Wijnhuis Vega de Ribes doet er alles aan om 'm van uitsterving te behoeden. In deze helder donkergele wijn krijgt de druif bijval van een zorgvuldige selectie metgezellen. De Xarel.lo, Garnatxa Blanca en Sauvignon Blanc maken het druivendefilé compleet. Lang geperst en langzaam gefermenteerd op lage temperatuur. Selecció Blanc is een prachtige uiting van wat er allemaal groeit en bloeit in het mediterrane landschap. Met duidelijke toetsen van bloemetjes, citrus en rijp fruit. Geweldig bij een licht verteerbare hap, maar ook uitermate geschikt om los te drinken.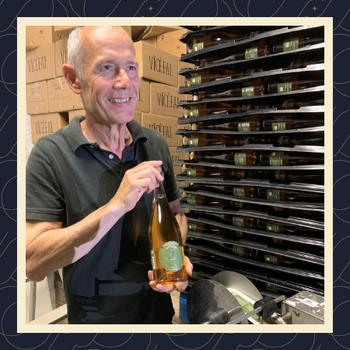 Wat dit wijnhuis zo bijzonder maakt
Familiewijnhuis Vega de Ribes heeft een rijke historie. De familie Bartra Roig woont al sinds 1540 in landgoed La Serra, aangelegd rondom een twaalfde-eeuwse defensietoren, tussen het Parc del Garraf en de middellandse zee. Naast druiven verbouwt Vega de Ribes ook olijven, johannesbrood, amandelen en lokale boomsoorten. Alles volgens een organische manier van werken. Hun wijnen kenmerken zich door de unieke natuur en lokale variëteiten, zoals Xarel.lo en Malvasia de Sitges. Onder de bescheiden 14 hectare aan wijngaarden valt een 80 jaar oude rank van Xarel.lo. Eén van de oudsten van dit gebied.
Job's Proefnotities
Vrij donker van kleur voor een witte wijn. Bijzonder aromatisch, met hinten van gedroogde bloemen, rijpe rode appel en frisse citrus. Intens qua smaak, mild qua body. Een heerlijk verfrissende zuurgraad en een vrij lange afdronk.
The questions we get the most
Absolutely, as soon as your order leaves the door you will receive an email from DPD with a tracking code. This allows you to track your order.
We usually prepare the orders on the weekend. They will be posted on Monday and they will arrive in 1 to 2 working days. Our delivery times therefore vary between 2 and 5 working days.
Yes, you can! If something is not to your liking in one way or another, you can contact us and we will organize that the bottles are returned.
First of all, that's a shame and bad luck, but don't worry. Do not drink the wine. Put the cork back in and let us know. We will then send you a new bottle.
Send us a message via WhatsApp or e-mail, or call one of us via our contact details and we'll take care of it all for you.
Yes, every wine from our selection can be ordered per bottle. This way you can put together your own box and try different wines.
We have a separate catalog for business customers and interested parties. Both for catering and retail. In addition, we are also happy to discuss with you how our wines can be a deepening or addition to your business.
Of course. Would you like to surprise someone? You can enter an alternative delivery address when ordering and leave a message for this person in the comments. If you'd rather discuss with us how you envision it, that's fine too. You can always reach us via WhatsApp, call or email.
We have beautiful boxes in which we can send a bottle. As a result, the lucky person receives a beautiful and unique gift.
You can. When ordering, the option to add a comment appears. Here you can leave your personal message for the person you want to surprise.