White Wine Style - Sparkling Tea
Smaakvolle alcoholvrije drank voor de liefhebbers van subtiele, bloemige witte wijnen die doen denken aan witte wijn uit de Bourgogne.
Alcohol:
0%
Herkomst:
Litouwen
Rijping:
4-6 maanden rijping
Sulfiet:
0 mg/L
Wijnbouw:
Biologisch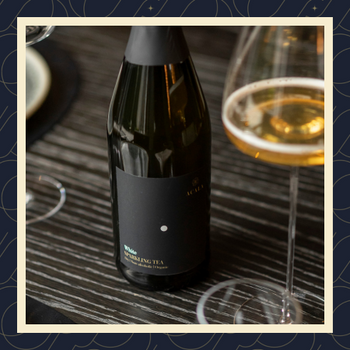 Deze variant is ontworpen om de ervaring van het drinken van witte wijn uit de Bourgogne na te bootsen. De White Wine Style Sparkling Tea is een subtiel en verfijnd alternatief voor witte wijnliefhebbers. Het heeft een lichte en heldere uitstraling, vergelijkbaar met veel witte wijnen. De smaak is doordrenkt met tonen van witte thee en natuurlijke botanicals, waardoor een smaakprofiel ontstaat dat fruitige, bloemige en soms kruidige noten heeft. Het resultaat is een verfrissende drank die de elegante kenmerken van witte wijn op een indrukwekkende manier vastlegt.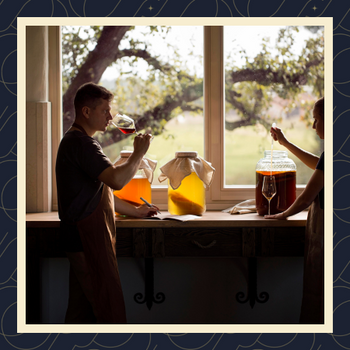 Maak kennis met een innovatie die de wereld van fine dining en wijnliefhebbers transformeert: Sparkling Tea for Wine Lovers. Deze verfijnde, alcoholvrije drank, geproduceerd door Acala Drinks in Litouwen, is een meesterwerk ontstaan uit de passie en expertise van een voormalige sommelier in Londen, een Champagne specialist met een WSET-diploma op zak. Met drie verleidelijke stijlen - White Wine Style, Rosé Wine Style en Red Wine Style - biedt Sparkling Tea for Wine Lovers een unieke smaakbeleving die nauwgezet is samengesteld om de subtiliteiten van wijn na te bootsen.
No information is available for this specific product!
The questions we get the most
Absolutely, as soon as your order leaves the door you will receive an email from DPD with a tracking code. This allows you to track your order.
We usually prepare the orders on the weekend. They will be posted on Monday and they will arrive in 1 to 2 working days. Our delivery times therefore vary between 2 and 5 working days.
Yes, you can! If something is not to your liking in one way or another, you can contact us and we will organize that the bottles are returned.
First of all, that's a shame and bad luck, but don't worry. Do not drink the wine. Put the cork back in and let us know. We will then send you a new bottle.
Send us a message via WhatsApp or e-mail, or call one of us via our contact details and we'll take care of it all for you.
Yes, every wine from our selection can be ordered per bottle. This way you can put together your own box and try different wines.
We have a separate catalog for business customers and interested parties. Both for catering and retail. In addition, we are also happy to discuss with you how our wines can be a deepening or addition to your business.
Of course. Would you like to surprise someone? You can enter an alternative delivery address when ordering and leave a message for this person in the comments. If you'd rather discuss with us how you envision it, that's fine too. You can always reach us via WhatsApp, call or email.
We have beautiful boxes in which we can send a bottle. As a result, the lucky person receives a beautiful and unique gift.
You can. When ordering, the option to add a comment appears. Here you can leave your personal message for the person you want to surprise.