L'Heravi Seleccio
Een elegante rode wijn die niet bang is om toegankelijk te blijven. De subliem ontwikkelde smaak van deze L'Heravi Seleccio moet je geproefd hebben. Op de voorgrond rijp donker fruit, subtiel omringd door spannende specerijen. Laat je verrassen door nieuwe aroma's en proef hoe Carinyena en Syrah samen smaken.
Druivenras:
Carinyena, Syrah
Alcohol:
13.5%
Jaar:
2021
Herkomst:
DO Montsant
Bodem:
Gipssteen met geoxideerde ijzer
Rijping:
8 maanden rijping op eikenhouten vaten
Sulfiet:
0 mg/L
Wijnbouw:
Biodynamisch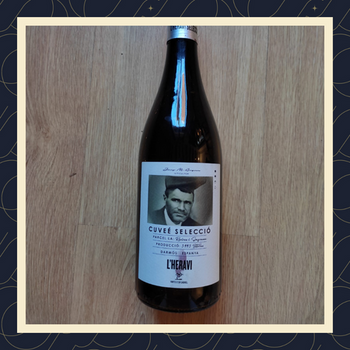 Waarom we van deze wijn houden
In Montsant groeien typisch Catalaanse druivenrassen voor deze volle rode wijn. De wijnstokken van de Syrah zijn 40 jaar oud en die van de Carinyena zelfs 70. De L'Heravi Selecció wordt 8 maanden gerijpt op Franse eikenhouten vaten. Hierdoor proef je pas echt de hartige smaken die een wijn van deze 2 druivenrassen kan hebben. En het mooie is: hoe langer je 'm laat staan, hoe meer uitgesproken hij smaakt.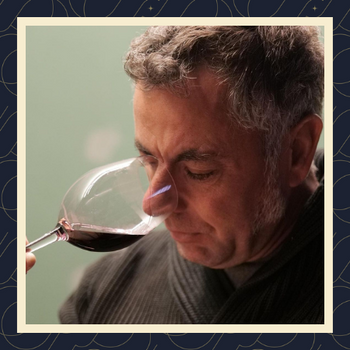 Wat dit wijnhuis zo bijzonder maakt
Voor de oorsprong van Vinyes d'en Gabriel moeten we meer dan 150 jaar terug in de tijd. Toen Joan Rofes het landhuis Gabriel de Darmos erfde, plantte hij er zijn eigen wijngaard en legde hij de basis legde voor een eeuwenoude familietraditie. Josep Maria Anguera is vierde generatie wijnmaker en zette het wijnhuis op zoals hij er in de 21e eeuw uitziet. De 12 hectare aan druivenstokken bewerkt hij helemaal in zijn eentje. Een inspirerende man die de positie van de maan in overweging neemt bij het oogsten en wijnmaken. Alles met respect voor het fundament van de oude bodega, een harmonieuze dialoog met het land en een gezonde portie doorzettingsvermogen om eerlijke, expressieve en authentieke wijnen te maken.
Job's Proefnotities
Een hartige rode wijn met een diepe paarse kleur. De Carinyena en Syrah zorgen voor veel aroma's van donker fruit, tijm en specerijen. In de neus een complex en verfijnd profiel om heerlijk in weg te dromen. Zwarte vruchten zoals bramen en zwarte bessen voeren hierbij duidelijk de boventoon. Aan aroma's van gedroogde vlees en bosgrond geen gebrek.
The questions we get the most
Absolutely, as soon as your order leaves the door you will receive an email from DPD with a tracking code. This allows you to track your order.
We usually prepare the orders on the weekend. They will be posted on Monday and they will arrive in 1 to 2 working days. Our delivery times therefore vary between 2 and 5 working days.
Yes, you can! If something is not to your liking in one way or another, you can contact us and we will organize that the bottles are returned.
First of all, that's a shame and bad luck, but don't worry. Do not drink the wine. Put the cork back in and let us know. We will then send you a new bottle.
Send us a message via WhatsApp or e-mail, or call one of us via our contact details and we'll take care of it all for you.
Yes, every wine from our selection can be ordered per bottle. This way you can put together your own box and try different wines.
We have a separate catalog for business customers and interested parties. Both for catering and retail. In addition, we are also happy to discuss with you how our wines can be a deepening or addition to your business.
Of course. Would you like to surprise someone? You can enter an alternative delivery address when ordering and leave a message for this person in the comments. If you'd rather discuss with us how you envision it, that's fine too. You can always reach us via WhatsApp, call or email.
We have beautiful boxes in which we can send a bottle. As a result, the lucky person receives a beautiful and unique gift.
You can. When ordering, the option to add a comment appears. Here you can leave your personal message for the person you want to surprise.