Piemonte Barbera
Tenuta Foresta's Piemonte Barbera is een iconische Italiaanse wijn gemaakt van de Barbera-druif, gedijend in de kalkrijke bodems van Piemonte.
Druivenras:
100% Barbera
Alcohol:
14%
Jaar:
2020
Herkomst:
Piemonte
Bodem:
Kalk
Sulfiet:
52 mg/L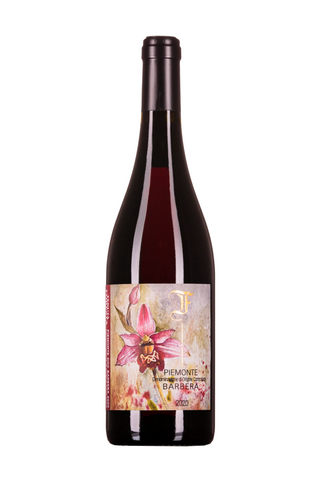 Over de wijn
De Piemonte Barbera van Tenuta Foresta is een voortreffelijke Italiaanse wijn die het karakter van Piemonte op een uitzonderlijke manier tot uiting brengt. Deze wijn wordt gemaakt van de Barbera-druif, die gedijt in de kalkrijke bodems van Piemonte. Het productieproces begint met de zorgvuldige selectie van rijpe druiven, die met de hand worden geoogst om de hoogste kwaliteit te garanderen. Wat de Piemonte Barbera van Tenuta Foresta echt bijzonder maakt, zijn de verrassend complexe aardse en vlezige aroma's die de wijn kenmerken. Bij het proeven onthult deze wijn een rijkdom aan smaken, waaronder donker fruit zoals bramen en zwarte kersen, vergezeld van subtiele kruidige tonen en een vleugje tabak. Deze complexiteit in smaak en geur maakt de Piemonte Barbera tot een uitstekende keuze voor wijnliefhebbers die op zoek zijn naar diepgang en nuance in hun glas.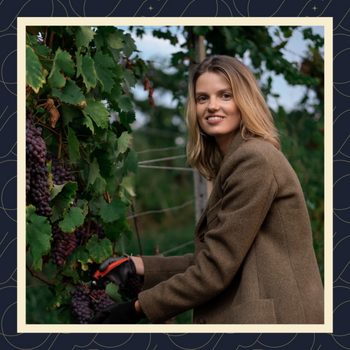 Over het wijnhuis
Tenuta Foresta, gelegen in het pittoreske Piemonte, wordt geleid door de getalenteerde jonge wijnmaakster Olga Semencha. Dit wijnhuis belichaamt Italiaanse wijnkunst met passie. Olga's toewijding resulteert in wijnen die finesse en authenticiteit uitstralen, met de Asti Secco als een opvallende creatie. Deze mousserende wijn, met zijn frisse en fruitige smaken, is het hoogtepunt van Tenuta Foresta's aanbod. Met een sterke focus op kwaliteit en exclusiviteit, is dit wijnhuis een schitterend voorbeeld van innovatief wijnmaken.
Proefnotities van Job
In het glas onthult deze wijn weelderige tonen van donker fruit, met rijpe bramen en zwarte kersen die de zintuigen omhullen. Een stevige zuurgraad vormt de ruggengraat van deze wijn, wat zorgt voor een levendige frisheid en een elegante structuur. Tegelijkertijd brengt het een harmonieus evenwicht tussen de fruitige en kruidige elementen. Subtiele kruidige tonen en een vleugje tabak mengen zich met het donkere fruit, waardoor een intrigerend palet van smaken ontstaat.
The questions we get the most
Absolutely, as soon as your order leaves the door you will receive an email from DPD with a tracking code. This allows you to track your order.
We usually prepare the orders on the weekend. They will be posted on Monday and they will arrive in 1 to 2 working days. Our delivery times therefore vary between 2 and 5 working days.
Yes, you can! If something is not to your liking in one way or another, you can contact us and we will organize that the bottles are returned.
First of all, that's a shame and bad luck, but don't worry. Do not drink the wine. Put the cork back in and let us know. We will then send you a new bottle.
Send us a message via WhatsApp or e-mail, or call one of us via our contact details and we'll take care of it all for you.
Yes, every wine from our selection can be ordered per bottle. This way you can put together your own box and try different wines.
We have a separate catalog for business customers and interested parties. Both for catering and retail. In addition, we are also happy to discuss with you how our wines can be a deepening or addition to your business.
Of course. Would you like to surprise someone? You can enter an alternative delivery address when ordering and leave a message for this person in the comments. If you'd rather discuss with us how you envision it, that's fine too. You can always reach us via WhatsApp, call or email.
We have beautiful boxes in which we can send a bottle. As a result, the lucky person receives a beautiful and unique gift.
You can. When ordering, the option to add a comment appears. Here you can leave your personal message for the person you want to surprise.